Enrolment Date: Saturday 3rd February 2018

"Behold, We have bestowed it from on high as a discourse in the Arabic tongue, so that you might encompass it with your reason." (Quran 12:2)
Aim:
As education is a foundational principle of AIM as an organisation, it has established two Arabic language schools– one in Miller (Liverpool) and one in Punchbowl. It also aims at establishing a full-time primary school, as part of its current major building project at Matthews Street in Punchbowl.
Objectives:
The two Arabic schools are affiliated with the Department of Education's Community Languages Schools Program. The objective of teaching community languages is to help the young generation master their country of origin languages (Arabic in this case). It also aims at developing the students' language skills which enable them to move between Arabic and English and between the two cultures. In line with these objectives and as the Noble Qur'an and the Islamic heritage are the main source of the Arabic culture, we give them special attention as one of the means to teach our students the Arabic language skills. In addition to everyday language vocabulary and structures we add the values and principles communicated in the Islamic view of life.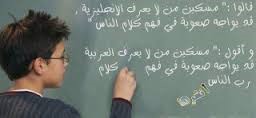 They say: How poor are those who do not know English, they cannot understand what people say. I myself say: How poor are those who do not know Arabic, they cannot understand the language of the Lord of the people.
Programs and Text Books
To achieve the above objectives AIM Arabic Schools' management has chosen the text books of the International Curricula Organization (ICO) which has produced Arabic text books that are aimed at teaching Arabic in the West. They have adopted the communicative approach of teaching a language and at the same time they have given special attention to the structural method of teaching the language. They have also supported the books with multimedia CDs that make the teaching of the language more appealing to the students.

Location and Contact Details:
Punchbowl
Saturdays 9:00 am to 12:30 pm
Punchbowl Musallah, 27 Arthur Street, Punchbowl 2196
TEL. 0297581215 — Mob. 0401942734
Principal: Mr Hassan Ayoubi
Miller (Liverpool)
Saturdays 9:00 am to 1:30 pm
Miller Public School, Shropshire Street, Miller NSW 2168
Tel. 0408094445
Principal: Mr Mohamad Esber